My Oscars Message for You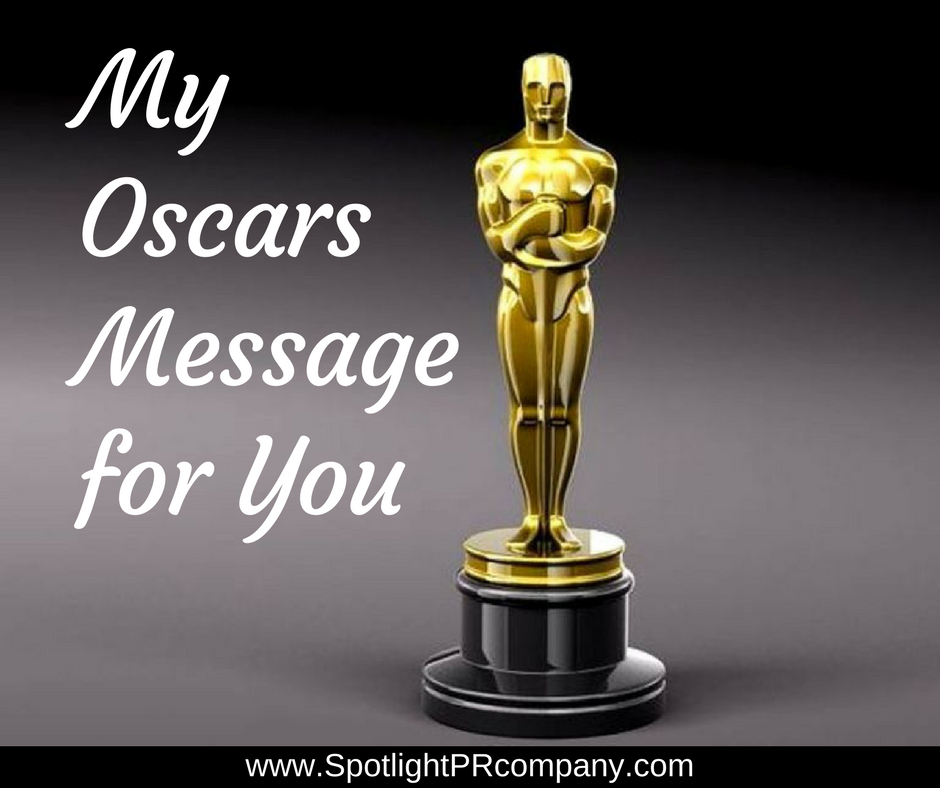 It's Oscars week – a.k.a. the biggest publicity week in Hollywood.
And the winner is…
Who do you think will be the excited few to hear their names called this year?
Since I don't work for the accounting firm tallying the votes, I have no idea who will take Oscar home. But, what I do know is that it will be no accident. Yes, the winners are talented…and everyone nominated has proven themselves to be talented as well.
However, what I'm talking about goes way beyond the artistic "show" side of show biz. It falls in the latter "business" side. I'm referring to the carefully planned and perfectly executed publicity and marketing campaigns behind each of these projects and individuals.
It's no coincidence that all of the awards nominees just happen to be appearing on every talk and entertainment show right now. From morning to afternoon to late night – they're all chatting up actors, directors, writers, producers, musicians and anyone else whose work has captured the Academy's attention this awards season. From paid ads in the trades to free screeners sent to industry voters, the campaign is on. Behind every winner is a team of publicity and marketing experts.
Why is this important to you? Because I want you to realize that (most of the time) creating buzz about a project or person involves a carefully crafted game plan. It doesn't matter the size of the project either.
This year's nominees for Best Picture have a wide range in budget. On the high end are: ARRIVAL ($47Million) and HACKSAW RIDGE ($40Million); the low end are: MANCHESTER BY THE SEA ($8.5Million) and MOONLIGHT ($5Million).
Keep in mind, these budgets don't account for all the extra Awards season promotional push that you've been experiencing – that's extra!
So, does this mean you should all go out and spend thousands of dollars on a publicity campaign blitz the next time you book a gig or launch a project? NO! I'm simply suggesting that you start putting some time and energy into planning steps to push your career further.
This might mean…
– Building a solid industry email list for sharing your successes.
– Deciding to boost a Facebook post next time you launch a web series.
– Working with Spotlight (or another PR firm) to reach out to Reporters and help you gain some press coverage.
– Simply determining a few individual bloggers you connect with on your own.
Whatever you decide – it's time to do something!
While you don't have control over exactly how many fans you'll gain for a specific project, there are definitely things you can do to try and find them. Even if you're working with a low or no budget!
So, I want to encourage you to stop settling for watching others celebrate their successes and start building a solid game plan to reach your own.
And, if you've read this far…then I'm possibly telling you stuff you already know. So, I will step off by soapbox now.
Please, go enjoy the spectacle known as The Oscars.
And, to help you have fun…click here for a printable scorecard.
THANKS!